Aztec Media Company
has been producing quality VIDEO for local, regional
and national television and private businesses for nearly 25 years!

Practical, down to earth VIDEO PRODUCTION
We've created literally THOUSANDS of videos from scratch in various lengths,
formats, price ranges and delivery mediums. Single camera cinematic format pieces to
HD multi-camera event based productions. We pretty much cover it all. It's also worth mentioning
the countless televsion ads we have written, produced, directed, filmed, edited, and
delivered for cable and broadcast televison.

Media Conversion, Duplication, Replication, Digital Delivery
We have handled countless hours of media conversion. No matter if you are going to the web, the cloud, YouTube, Vimeo, DVD, CD, or whatever else. Analog to digital formats, and back again. Your entire tape, vinyl, or film collection to digital files, delivered via hard drive, flash drive, DVD, or through virtual storage.
WE DO ALL WORK ON-SITE! Your precious tapes or film will never be shipped to another place for service, unlike Cost-Co, Walgreens and other big business facilites.
USB Duplication
USB flash drives are easy to share with friends, family, and colleagues. We now offer USB duplication and custom screening onto USB flash drives. This is the best way to deliver all your media and data for enjoyment and for archive.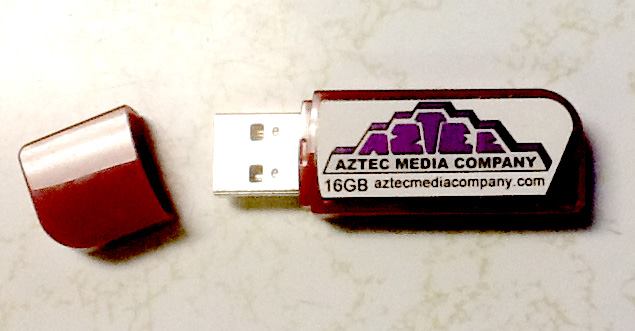 Aztec Media Company stays in business because we believe in SERVICE, QUALITY, and VALUE.
_______________________________________________________________________________
Below are a few examples of some of our work.
Qualistar Early Childhood Development non-profit fundraising video
Carpet Clearance Warehouse - Red Tags Year End Sale 2017
Green Box Arts Festival Promo
Pikes Peak Prep - Short Format, Promotional Video